"Everyone Has a Plan Until They Get Punched in the Face" Organic T-Shirt
There's wisdom in resilience and humour in the unexpected. Channel your inner champion with this iconic quote by Mike Tyson: "Everyone has a plan until they get punched in the face." But it's not just the message that packs a punch.
Made for those who are conscious about their fashion choices, this tee is a blend of style and responsibility. Revel in the soft touch of 100% organic, combed, ring-spun cotton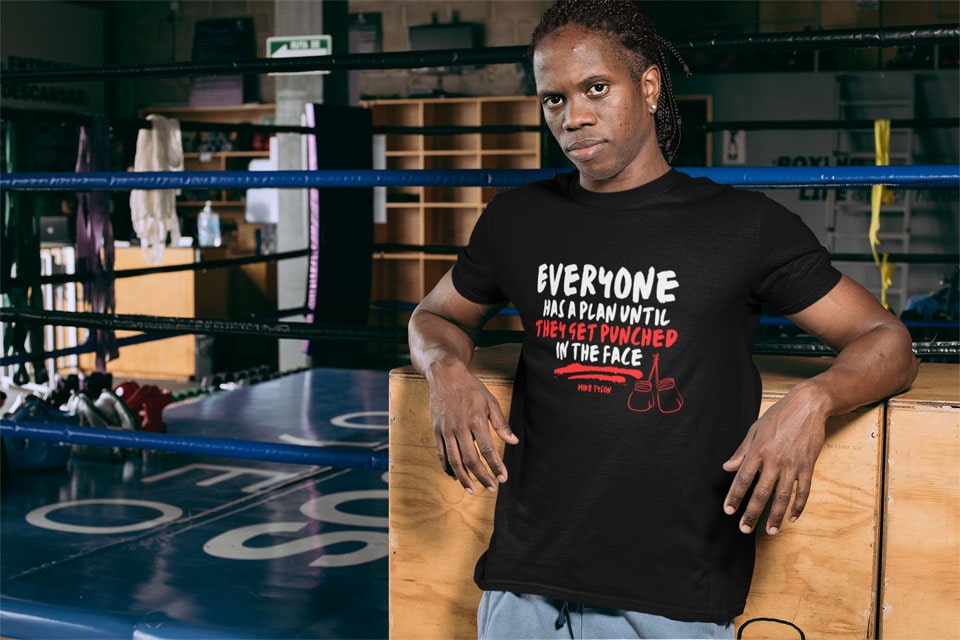 against your skin, knowing it's crafted from responsibly sourced cotton grown without hazardous chemicals.
From the ribbed neck collar to the hemmed set-in sleeves and the wide double-needle topstitched bottom hem, every detail resonates with quality. The light fabric ensures comfort, whether you're taking on the boxing ring or just a warm summer day.
Key Features
Eco-friendly: Crafted with 100% organic cotton.
Comfort: Light fabric weighing 5.3 oz/yd² (180 g/m²) promises a breezy fit.
Distinctive: Regular fit with a sewn-in label.
Trustworthy: Certified by Oeko-Tex, PETA, and GOTS.
Fit Matters: Our t-shirt runs true to size. However, for our EU-based customers, note that our Print Providers use European sizes in their blanks. Ensure you refer to our size chart for that perfect fit.
Make a statement, inspire a conversation, and do it sustainably. Your fashion choices say a lot about you; let this one speak of your strength and eco-awareness.
Wearable Wisdom Meets Sustainable Style
At the heart of this tee is an iconic phrase by Mike Tyson, a reminder that life is unpredictable and that adaptability is key. The message doesn't just resonate with boxing enthusiasts but with anyone who's faced and overcome challenges. It's a mantra that encourages resilience, perseverance, and an ever-evolving game plan.
Eco-Conscious Crafting
In a world where fast fashion often disregards the environment, this t-shirt stands out as a beacon of eco-friendliness. Made from 100% organic cotton, it's an emblem of sustainable style. The cotton is responsibly sourced, ensuring a reduced carbon footprint, and grown without hazardous chemicals. Each time you wear it, you're not just making a style statement but also advocating for a greener planet.
Unmatched Comfort
There's something incredibly satisfying about the feel of organic, combed, ring-spun cotton against your skin. It's soft, breathable, and promises an unmatched comfort that lasts throughout the day. The light fabric ensures you don't feel weighed down, making it ideal for active days or relaxed weekends.
Quality That Speaks
Every stitch, every hemline, and every label has been thoughtfully crafted. The ribbed neck collar offers durability, ensuring it retains its shape wear after wear. The double-needle topstitched bottom hem adds to its longevity, making sure your tee looks new, longer.
Trust in Certifications
When a product boasts certifications from Oeko-Tex, PETA, and GOTS, you know you're investing in authenticity and quality. These certifications guarantee that the t-shirt meets high standards of environmental and ethical production.
So, when you choose this t-shirt, you're not just buying a piece of clothing; you're embracing a lifestyle that values wisdom, comfort, quality, and environmental responsibility. Wear it with pride, knowing that you're part of a movement that cherishes sustainable choices and meaningful narratives.
| | 2XS | XS | S | M | L | XL | 2XL | 3XL | 4XL | 5XL |
| --- | --- | --- | --- | --- | --- | --- | --- | --- | --- | --- |
| Width, in | 17.13 | 18.11 | 19.29 | 20.47 | 21.65 | 22.83 | 24.02 | 25.20 | 27.17 | 29.13 |
| Height, in | 25.20 | 25.98 | 27.17 | 28.35 | 29.13 | 29.92 | 30.71 | 31.50 | 32.28 | 33.07 |
| Sleeve length, in | 7.48 | 7.68 | 8.07 | 8.46 | 8.86 | 8.86 | 9.25 | 9.65 | 9.65 | 9.84 |