Crafted from a balanced blend of 50% cotton and 50% polyester, this hoodie promises both durability and a soft, plush feel against the skin. Its medium-heavy fabric weighing 8.0 oz/yd² (271 g/m²) ensures you stay snug and warm even when the temperatures dip.
With its classic fit, this sweatshirt is an epitome of relaxed style. A spacious kangaroo pocket in the front not only lends a touch of daily practicality but is also perfect for those hands-seeking warmth moments. The hood features a drawstring that seamlessly matches the colour of the sweater, adding a subtle but stylish edge.
Key Features
Unisex Design: Perfect for everyone and anyone.
Quality Blend: 50% cotton, 50% polyester. A combination that promises longevity and softness.
Consistent Sizing: Runs true to size, ensuring a great fit every time.
Tear-Away Label: For added comfort without the scratchy tag.
Wear your wisdom. Stay warm, stay stylish, and remember - always have a backup plan. Get yours now!
The Mike Tyson Quote Hoodie isn't just another piece of clothing; it's a statement of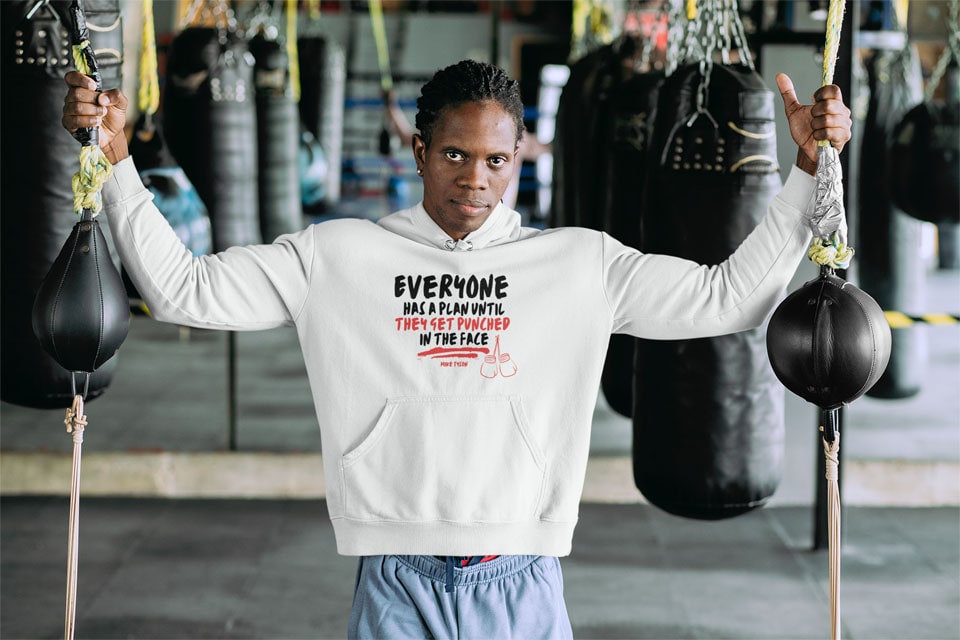 resilience, a blend of fashion and philosophy. From the moment you slip it on, you're not only embracing an iconic quote but also immersing yourself in unparalleled comfort. One of the standout benefits of this hoodie is its quality blend of 50% cotton and 50% polyester. This combination ensures that the Mike Tyson Quote Hoodie stands the test of time, resisting wear and tear even after multiple washes.
Moreover, its medium-heavy fabric is perfect for those seeking warmth without being weighed down. Whether you're out for an early morning jog or a late-night stroll, this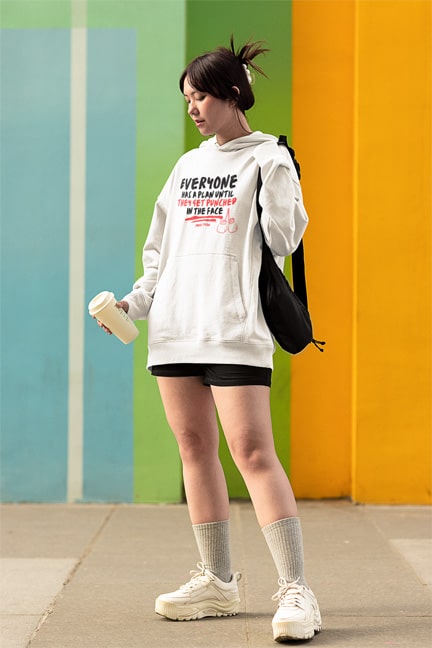 hoodie provides the ideal balance of cosiness and breathability. The spacious kangaroo pocket serves as a handy repository for your essentials or simply as a refuge for cold hands.
The Mike Tyson Quote Hoodie also caters to those who prioritize aesthetics in their wardrobe. Its classic fit is universally flattering, and the colour-matched drawstring is a thoughtful detail, subtly elevating its overall design. But perhaps the most significant benefit is the hoodie's ability to spark conversations and resonate with people's life experiences. The quote isn't just a testament to Tyson's wisdom but is relatable to anyone who has faced unexpected challenges.
In a world where fashion often prioritizes style over substance, the Mike Tyson Quote Hoodie beautifully merges both. It's not just a piece of clothing, but a narrative, a mindset, and a cosy companion for cold days.
| | S | M | L | XL | 2XL | 3XL | 4XL | 5XL |
| --- | --- | --- | --- | --- | --- | --- | --- | --- |
| Width, in | 20.08 | 22.05 | 24.02 | 25.98 | 27.99 | 29.92 | 31.89 | 33.86 |
| Length, in | 27.17 | 27.95 | 29.13 | 29.92 | 31.10 | 31.89 | 33.07 | 33.86 |
| Sleeve length from center back, in | 33.50 | 34.50 | 35.50 | 36.50 | 37.50 | 38.50 | 39.50 | 40.50 |