Ready to sprinkle a bit of star-studded magic onto your festive wardrobe? Meet our dazzling Marilyn Monroe 'Santa Baby' Christmas Jumper, a true showstopper in the holiday fashion scene. Imagine wrapping yourself up in the glamour and charm of Hollywood's golden era, all while basking in the joyous spirit of Christmas.
This isn't just another Christmas jumper; it's a sartorial tribute to the iconic Marilyn
Monroe, blending her timeless allure with the cosy, festive vibes of the holiday season. Whether you're a die-hard Marilyn fan or simply on the lookout for a unique festive garment, this jumper is bound to turn heads and spark conversations at every holiday gathering.
Crafted with love and a keen eye for detail, our Christmas Jumper is more than just a piece of clothing. It's a wearable piece of art that brings together comfort, style, and a touch of nostalgia. So, why settle for the ordinary when you can celebrate this festive season with a touch of Hollywood glamour? Let's dive in and discover what makes this jumper an absolute must-have in your holiday wardrobe!
The Design Inspiration
Ever wondered what it would be like to merge the glitz of Hollywood with the merriment of Christmas? That's exactly the spark of genius behind our Marilyn Monroe 'Santa Baby' Christmas Jumper. Inspired by the legendary star's timeless charm and her cheeky rendition of 'Santa Baby', this jumper is our love letter to an era of unapologetic glamour.
Picture this: Marilyn Monroe, with her iconic blonde curls and captivating smile, embodying the festive spirit in a way only she could. It's this image that we've lovingly captured and transformed into a fashion statement. The jumper isn't just a piece of clothing; it's a conversation starter, a piece of history, and a dash of Hollywood glamour all rolled into one.
But why Marilyn, you ask? Well, she's more than just a silver screen icon; she's a symbol of enduring style and charisma. In our jumper, we're not just paying homage to Marilyn; we're reviving her spirit in every thread, every colour, and every stitch. It's our way of keeping the legacy alive, giving fans and fashionistas alike the chance to step out in a piece that's as unique as they are.
Unmatched Comfort and Quality
We know that when it comes to festive knits, it's not just about looking the part; you've got to feel fabulous too. That's why we've chosen a cosy blend of 50% cotton and 50% polyester. Trust me, once you pull this jumper on, you'll feel like you're wrapped in a warm, loving hug.
What's the fuss about this fabric blend, you ask? Well, it's the perfect recipe for a jumper that's not only soft to the touch but also keeps you snug as a bug during those nippy winter days. And let's not forget the weight – at 8.0 oz/yd² (271.25 g/m²), it strikes that perfect balance between being lightweight enough for comfort and heavy enough to keep the chills at bay.
But that's not all. Ever had that annoying itchy feeling with jumpers? We've ditched that entirely. Our Christmas Jumper comes with a tear-away label, so you're in for nothing but smooth sailing, or should I say, smooth wearing!
And let's talk durability – because what's a great jumper if it doesn't last? The double-needle stitching at the shoulder, armhole, neck, waistband, and cuffs ensures that this isn't just a one-season wonder. It's a festive favourite you can turn to year after year.
Style Meets Functionality
Alright, let's talk style and functionality, because our Marilyn Monroe Christmas Jumper is a stunner in this department. We've all been there, haven't we? Picking out a festive jumper that looks the part but ends up being a bit of a let-down in the comfort or practicality stakes. Well, not this time!
Our jumper's classic fit is a real game-changer. It's designed to flatter every body shape, making it a fantastic choice for everyone, regardless of size or style preference. You know that feeling when you find an outfit that just feels right? That's the feeling we're aiming for here.
But it's not just about looking good; it's about feeling great too. The crew neckline isn't just a nod to timeless fashion; it's also about keeping you snug without feeling constricted. And for those who dread the thought of another jumper ruined in the wash – fear not! The ribbed knit collar, waistband, and cuffs retain their shape beautifully, wash after wash.
Durability? We've got that covered too. With double-needle stitching throughout, this jumper isn't just for Christmas; it's for many Christmases to come. It's about investing in a piece that lasts, both in style and in wear.
And here's a little extra something – we've done away with those pesky side seams. Why? Because we believe in maximising comfort. That means no more itchy sides, just uninterrupted smoothness all around.
In short, when you slip on our Marilyn Monroe Christmas Jumper, you're not just wearing a piece of holiday attire; you're donning a blend of timeless style and practical comfort. It's the kind of jumper that makes you feel as good as you look – and let's be honest, who doesn't want that?
A Unisex Fashion Statement
Now, let's turn our attention to one of the most fabulous features of our Marilyn Monroe Christmas Jumper – its universal appeal. Yes, you heard it right! This isn't just a jumper; it's a unisex fashion statement, ready to be rocked by anyone and everyone who loves a bit of festive flair mixed with classic Hollywood glamour.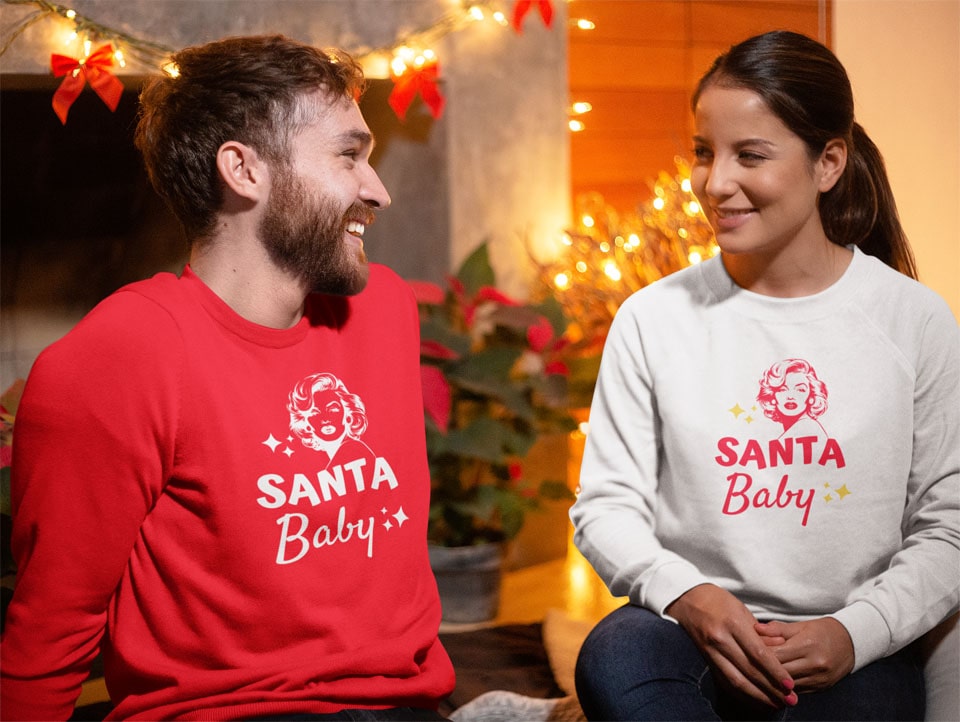 We've put thought into creating a design that transcends gender norms because, let's face it, style knows no bounds. Whether you're buying it for yourself or as a thoughtful gift, this jumper is designed to look smashing on all, regardless of gender. It's about inclusivity in fashion, where everyone gets to partake in the joy of dressing up for the holidays.
But what makes it so versatile, you wonder? It's in the cut, the fit, and the overall design. We've ensured that the jumper sits comfortably on any frame, accentuating the right spots and offering enough room to move, groove, and enjoy the festive season to the fullest.
Imagine this: a jumper that your mum, your brother, your best mate, or even your grandad could wear with equal panache. It's the kind of versatility we dream of when we think of wardrobe staples.
And the best part? The joy of twinning with your loved ones! Picture the fun photo ops and the lovely memories you'll create, all while donning this fabulous jumper.
Styling Tips
First off, let's talk casual. Pair this iconic jumper with your favourite jeans, and you've got an effortlessly chic outfit that screams 'casual cool'. Add a pair of trainers, and you're ready for a day out, be it shopping for gifts or a relaxed brunch with friends.
But hey, who says Christmas jumpers can't go dressy? Tuck it into a high-waisted skirt, throw on some tights and ankle boots, and voila – you're Christmas party-ready. Add a bit of bling with some statement jewellery, and you're sure to turn heads.
For the gents, how about layering it over a collared shirt? Pop the collar out, team it with chinos or smart trousers, and you've got a look that's both festive and sharp – perfect for those office parties or family gatherings.
And let's not forget the little ones. This jumper can be super cute on kids too. Pair it with their favourite leggings or joggers, and they're all set for that school Christmas play or a family photo session.
The beauty of this jumper lies in its versatility. It's like a blank canvas, ready to be styled in myriad ways to suit your personality and occasion. So go on, get creative, and make your own fashion statement this festive season. After all, with a jumper this fabulous, the world is your runway!
Ethical and Sustainable Production
Now, let's delve into something that's really close to our hearts – the ethical and sustainable production of our Marilyn Monroe Christmas Jumper. In today's world, where fashion and responsibility must go hand in hand, we're proud to say that this jumper ticks all the right boxes.
First things first, the cotton in our jumpers is 100% ethically grown in the USA. Why does this matter, you ask? Well, it's all about supporting sustainable farming practices that not only produce quality materials but also care for our planet. By choosing this jumper, you're supporting a chain of environmental stewardship that makes a real difference.
But the commitment doesn't stop there. We're also part of the US Cotton Trust Protocol. Now, this might sound a bit technical, but it's actually quite simple – and incredibly important. It means we're part of a system that ensures the cotton in your jumper is produced responsibly, with an eye on reducing environmental impact and improving social practices in the cotton industry.
And there's more. The dyes we use are OEKO-TEX certified, which, in plain English, means they're safe for both you and the environment. No nasty chemicals or unpleasant surprises here – just vibrant colours that stay true, wash after wash.
In a nutshell, when you wear our Marilyn Monroe Christmas Jumper, you're not just making a fashion statement. You're also making a statement about who you are and what you stand for. It's about looking good and feeling great, knowing that your choice is contributing to a better, more sustainable world. So, go ahead and wear it with pride – it's a jumper that's as kind to the earth as it is stylish!
A great conversation starter
Let's face it, Christmas jumpers are always a great talking point, and it always helps to have a bit of a story – so why the Marilyn 'Santa Baby' Christmas jumper? Well if anyone asks (which they will!), here a few points:
Marilyn Monroe and 'Santa Baby'
First off, let's clear a common misconception: Marilyn Monroe never actually sang 'Santa Baby'. The song was famously performed by Eartha Kitt in 1953. However, Marilyn's glamorous style and festive allure make her a fitting visual companion to the song's playful and seductive tone.
Marilyn's Festive Spirit
Marilyn Monroe, known for her charisma and timeless appeal, had a festive side too. She loved the holiday season and was known for her generosity, often sending heartfelt gifts to friends and colleagues.
The Hollywood Christmas Parade
Imagine the Hollywood Christmas Parade in the 1950s, with Marilyn Monroe as one of its stars. Her presence in such events added a touch of glamour and joy, embodying the festive spirit of the time.
A Symbol of the Era
Marilyn Monroe was more than just a movie star; she was an icon of the 1950s, representing a blend of glamour, sophistication, and a dash of whimsy – much like the Christmas season itself.
Armed with these nuggets, you're not just wearing a jumper; you're carrying stories and history. So next time someone asks about your fabulous Marilyn Monroe Christmas Jumper, you'll have more than just fashion to talk about – you'll have tales that bring the legacy of an icon to life amidst the festive cheer!"
Where to Buy
So, you're smitten with our Marilyn Monroe Christmas Jumper and wondering where you can snag one for yourself or perhaps as a fab Christmas pressie? Well, you're in luck! Getting your hands on this festive gem is as easy as mince pie.
Our exclusive Marilyn Monroe Christmas Jumpers are available online – just a few clicks and it's on its way to you. Whether you're snuggled up at home or on the go, you can secure this festive must-have with ease. And the best part? You don't even have to brave the Christmas shopping crowds!
If you're the kind of shopper who loves a hands-on experience, why not pop into one of our select retail partners? You'll find them listed on our website, complete with addresses and opening hours. It's a great way to get a feel for the jumper's quality and fit before you buy. Plus, there's always a bit of extra Christmas magic in store!
And here's a little insider tip – keep an eye out for our special holiday promotions. We might just have some delightful deals up our sleeves that'll make your purchase even sweeter.
Whether it's a treat for yourself or a gift for someone special, our Marilyn Monroe Christmas Jumper is just a few clicks or steps away. So why wait? Embrace the festive spirit and make this Christmas a stylish one to remember. After all, nothing says 'Happy Holidays' quite like a bit of Hollywood glamour mixed with festive cheer!